Buckyballs (C60)
Buckyballs, also called fullerenes, were one of the first nanoparticles discovered. This discovery happened in 1985 by a trio of researchers working out of Rice University named Richard Smalley, Harry Kroto, and Robert Curl.
Buckyballs are composed of carbon atoms linked to three other carbon atoms by covalent bonds. However, the carbon atoms are connected in the same pattern of hexagons and pentagons you find on a soccer ball, giving a buckyball the spherical structure as shown in the following figure.
The most common buckyball contains 60 carbon atoms and is sometimes called C60.Other sizes of buckyballs range from those containing 20 carbon atoms to those containing more than 100 carbon atoms.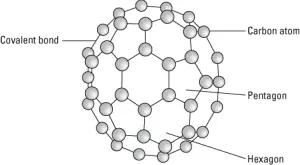 A buckyball.
The covalent bonds between carbon atoms make buckyballs very strong, and the carbon atoms readily form covalent bonds with a variety of other atoms, making them useful in various applications. Buckyballs are used in composites to strengthen material. Buckyballs have the interesting electrical property of being very good electron acceptors, which means they accept loose electrons from other materials. This feature is useful, for example, in increasing the efficiency of solar cells in transforming sunlight into electricity.
Excerpted from Nanotechnology For Dummies (2nd edition), from Wiley Publishing